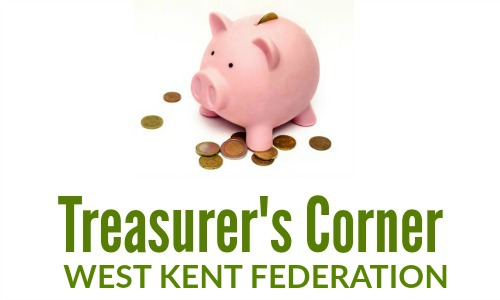 April 2020
This month I am revisiting the fundraising guidelines. I know it must seem as if I have covered this a lot recently, as it was a topic I wrote about in last October's Treasurer's Corner. I have also sent a copy of the fundraising guidelines along with a covering letter addressed to yourselves and WI Presidents in the February end of month posting.
However,a s it is a subject where the guidelines are not always followed and raises a lot of questions I thought I would reiterate the salient points again. I do hope that you, your President and Committee members will by now have rread the letter and guidelines.
In summary each WI is a charity, governed by the WI constitution. Under the NFWI guidelines a WI's assets, including any funds it holds, can be used to further the charitable objects set out in the constitution. These are set out on page one of the guidelines and are:
to advance the education of women and girls for the public benefit
to promote sustainable development
to advance public citizenship by promoting civic responsibility and volunteering
There are manytypes of projects or causes that fall within the WI objectives. Conversely there are many causes that do not. Examples of both categories are in the guidelines. In particular I draw your attention to page 3 and the examples of those which cannot be supported include:
an appeal to send parcels or provisions to children abroad
a project to create better facilities for or to prevent cruelty to animals
a generic appeal to help refugees
an appeal to help rehabilitate soldiers in action
Support for such causes does not support the WI CHaritable Onjectives and would breach charity law. This also applies to donations to National Charities. The only exception to this is the purchase of a wreath from the Royal British Legion.
You should also be aware that if you hold more than 15 fundraising events in any one place that you will lose an HMRC exemption for charities that means you do not have to pay VAT. If this exemption is breached you will have to become VAT registered.
Finally, when organising fundraising for a local cause please remember that it shouldn't be to the detriment of raising money for your own WI funds if needed.
As I said I hope you will have read the guidelines and noted the contents. If you are planning to fundraise for charitable causes and you are still not sure if your WI can support a particular cause or project please get in touch and I will try and assist, taking advice from NFWI if necessary.
Gillian Neville
---
March 2020
Time flies and it's already March again and the end of the financial year. For those of you who will not be able to attend the financial statement workshops later on this month, I thought I would go through some of the common errors that occur when completing the end of year statement.
Cash funds at A5 are not carried forward from the previous year correctly. The figure should equal the previous year's cash funds at B1.
If you have collected money as an agent in one financial year but not yet paid over then this amount should be entered at B1.5 and taken away (not added) from your cash funds.
Section C3 can be very useful to provide additional information to your members e.g. if holding more than one fundraising event it will allow you to show the breakdown between each event. It will also be useful to see if a specific event is worth repeating, if, for instance the profit has not been as good as expected.
Financial statements not always signed by the President and Treasurer
All pages of the financial statement must be returned to the Federation including page four (very often missing) as this contains the report by the IFE.
A word of warning if you are using the WI accounts spreadsheet, do not unprotect the sheets or add or delete rows. There is a real danger that the formulae for the calculations can be corrupted - thus undoing the benefits of having the spreadsheet do them for you.
NFWI do send out guidance with the financial statement on how to complete it. Please do read it.
Finally there are still a few places available for the workshops being held on 27 and 31 March. There are two sessions on each day. 10am - 12 noon and 2pm - 4pm. If you decide you would like to attend one of them please email me on treasurer@wkfwi.org.uk
Gillian Neville
---
February 2020
This month I wanted to revisit the issue of Charity Commission registration and the process that the Federation is going through to become a Charitable Incorporated Organisation (CIO).
At the recent meetings held in Marden and Swanley it became clear that there is still some confusion about the relationship of the two regimes. To be absolutely clear there is no link between the two.
Both the charity registration and CIO process are administered by the Charity Commission but that is as far as it goes.
Therefore, as I have mentioned before, WIs who have an income over £5,000 per annum need to be registered with the Charity Commission and don't need to worry about the CIO process.
The Federation itself, as we do now, will still be a registered charity and will therefore need to complete its own annual return.
I would be grateful if you could pass this on to your Committee and any members who may raise it with you.
Gillian Neville
---
January 2020
I hope you all had a good Christmas and may I wish you a Happy New Year.
I want to cover two things this month. Firstly, you will recall that last month I mentioned that I would be holding some workshops on completing the financial statement. The dates for these will be Friday 27 and Tuesday 31 March. There will be two sessions on each day, 10am - 12pm and 2-4pm, with a maximum of 12 at each one. If you are interested in attending one of these sessions please email me on Treasurer@wkfwi.org.uk stating the date and time you would like to attend. There is no charge for these workshops.
Secondly, a West Kent member, Rosemary Fordyce, won the second prize (European holiday for two) in this year's NFWI raffle. What you and your members may not realise though is that NFWI returns a percentage of the proceeds from the ticket sales back to Federations. The amount received depends on the number of tickets that Federation sells.
In our case this year we received just over £1,300 (last year it was £1,100). The Federation puts this money into the bursary fund. This enables us to specifically fund the two NFWI bursaries, for which every WI is automatically entered, as well as supporting the bursary fund more generally.
I hope that as a WI your committee would encourage its members to buy NFWI raffle tickets. Not only do they have the chance of winning a prize but your WI members (if they enter) could benefit from winning a bursary funded by the proceeds.
Gillian Neville
---
December 2019
As I write this it is the middle of October but by the time you read it December will be upon us and I am sure you will be busy with your Christmas preparations.
Besides hoping you have a good Christmas I want to take a little look forward to March and the end of the financial year. This year I am afraid to say there were a number of common errors across a considerable number of the statements submitted by WIs. In an effort to try and reduce this I am looking to hold some workshops in March which will focus on completion of the statement.
These would be half day events, held at Ethel Hunt Lodge and would comprise going through the statement, what information goes where on the form and the parts where the figures should tally (one of the common errors is that this doesn't happen). There would be no charge. If you would be interested in coming along to such an event please look out for further information in the January West Kent News.
I am also looking into starting a series of Treasurer's drop-in surgeries, at various points across the Federation, where you can just pop along to discuss any general/issues you may have concerning WI finances. Again, there will be more information in West Kent News.
Finally, may I take this opportunity to wish you all a Merry Christmas and a Happy New Year.
Gillian Neville
---
November 2019
I mentioned last time that this month I would be talking about raffles. This has been prompted by discovering that some WIs give money prizes in the form of cash at the meeting. I am afraid this is not allowed under legislation that governs the running of raffles. However, you can write a cheque for the winner.
Raffles and lotteries are regulated by The Gambling Act 2005 and the Gambling Commission. It is therefore important that if you are organising a raffle you follow the guidance below set out in NFWI's fundraising guidelines. Raffles organised by WIs fall under section 3 of the 2005 Act.
Raffles have three essential elements :
Payment is required
One of more prizes are awarded
Those prizes are awarded by chance
Raffles held either at an event (such as a fete) or where only members of the WI can take part don't need a license or registration.
The profits from a raffle organised and promoted by a charity are exempt from corporation tax (or income tax in the case of charitable trusts) so long as:
the lottery is organised and promoted in line with either section 3 or section 5 of the Gambling Act 2005; and
the profits from the lottery are only used to meet the charity's aims
A section 3 lottery (known as a 'small lottery') must abide by the following conditions:
the raffle must be held as part of an event or 'exempt entertainments', such as fetes and bazaars
the total value of the prizes can be no more than £250
the proceeds of the lottery must not be used for private gain
no cash prizes may be given
the sale and issue of tickets and the announcement of results must take place during the entertainment and at the event location
NFWI have affirmed that if a WI wishes to give a money prize then it must be in the form of a cheque, which hopefully shouldn't be an issue as the cheque book is generally taken along to meetings must be banked gross.
Gillian Neville
---
October 2019
I have been dealing with a number of queries recently about raising funds for and supporting charitable projects. NFWI have recently uploaded some fundraising guidelines to My WI and so I thought now would be an opportune moment to go through the latest guidance.
Each WI is a charity, governed by the constitution. Under the NFWI guidelines a WI's assets, including any funds it holds, can be used to further the charitable objects set out in the Constitution which are:
To advance the education of women and girls for the public benefit
To advance public health
To promote sustainable development
To advance public citizenship by promoting civic responsibility and volunteering.
Every WI can support any project or cause that falls within the above objects. Examples of such causes could be the raising of funds for an appeal to rebuild a local community centre that has been damaged by flooding, supporting a hall or other facility that benefits the community or providing facilities or equipment for a local hospital. The cause must also benefit as many people as possible - it should not help individuals or exclude anyone.
The guidelines also give examples of causes that cannot be supported such as an appeal to send parcels or provisions to children abroad, a project to create better facilities for or to help prevent cruelty to animals, a generic appeal to help rehabilitate soldiers injured in action.
I have also received a couple of specific questions on which I have sought NFWI Finance advice and their response is below.
Firstly, the Kent, Sussex & Surrey Air Ambulance - concerns as to whether this met the community criteria because it didn't specifically cover Kent. NFWI advise that if a WI wishes to fundraise for the Air Ambulance to contact them first and see if they have any specific Kent projects that the money could be used for.
Secondly, does a cause have to have premises in the borough that the WI is based in? NFWI state that as long as the cause meets WI objects then no it does not. I copy their full text below.
'The important element here is that the cause benefits the community. Therefore, the focus is on whether or not the cause predominantly benefits the public in the community and not where the cause is based'. Therefore, if your WI wishes to fundraise for a cause with premises in the next borough but it benefits your community, according to NFWI it would be fine to fundraise for because it meets the charitable objects even though it is not based in your specific borough.
I hope this helps. If you can I would suggest that you check out the full guidelines on My WI. Next month I shall talk about raffles, a topic that also causes issues and covered in the fundraising guidelines.
Gillian Neville
---
September 2019
This month I want to talk about Charity Commission Registration, the importance of completing the annual return and making sure that your WI details are accurate.
Firstly, a reminder that if your gross income per annum is normally less that £5,000 you do not have to register with the Charity Commission. If this applies to you and you are already registered then I would recommend that you deregister. This will be in line with the Charity Commission encouraging such charities to do so.
It is fairly straightforward to deregister and can be done via the Commission's website.
If you have to be registered (i.e. income over £5,000) then I want to stress the importance of completing your annual return and ensuring your WI's details are up to date. It is a legal obligation to do so and you have ten months from the end of the financial year i.e. until 31 January to comply. Failure to do so will mean receipt of what can be quite intimidating letters to the named contact, usually yourself, with threats of further action.
It is particularly important for WIs facing suspension that the Charity Commission return is completed and that they are informed when suspension takes place, otherwise you stay on their records as a 'live' charity.
There have been a few instances recently where the Treasurers for suspended WIS have been contacted about failure to complete the return. In one case the Charity Commission were threatening to hold an investigation panel and unfortunately the ex-member contacted had never been removed from the WI's registration. As you can imagine it was very difficult for her.
A couple of these WIs asked us, as the Federation, to take over the situation and deal with the Commission and complete the return. Whilst happy to provide what advice I can, I do have to point out that it is not possible for us to deal with such requests, as we are not the trustees of that WI.
In summary therefore:
1. If you meet the criteria I would recommend deregistering from the Charity Commission; you will still be a charity by virtue of the Constitution.
2. If registered complete your annual return and update WI details promptly, preferably as soon as possible after the annual meeting in May. It will save you a lot of hassle!
Gillian Neville
---
August 2019
As I write this at the beginning of June you will have finished presenting your financial statement to members at your WI's Annual Meeting.
Many of you will have used a Federation trained Independent Financial Examiner (IFE) to examine and sign off your accounts. Out of the 180 WIs in West Kent approximately 100 use a Federation IFE and there are always new requests to join the Federation Scheme.
Federation IFEs are trained specifically in the ways os WI financial practices, especially regarding Charity Commission/law requirements, something that outside examiners don't always understand.
However the continuing demand for the Federation scheme does mean that we are always looking for volunteers to undertake the IFE role. IFEs are responsible for examining their allocated WI's end of year accounts and records as well as providing advice and guidance to Treasurers. WIs are allocated to IFEs by the Federation's Scheme Administrator, Elizabeth Patterson.
A days training, held at Ethel Hunt Lodge, covering the above aspects of the role is arranged and paid for by the Federation. Ongoing support will also be available from either myself or Elizabeth.
If you feel that joining the IFE team would be of interest to you or want to know more about the role please get in touch woth me here at EHL on 01892 823813.
Gillian Neville
---
July 2019
Some of you may or may not have seen some correspondence in 2018 from NFWI about fundraising for ACWW (Associated Country Women of the World) Pennies for Friendship. This led to some confusion. The reality is, there is no problem so please do keep collecting your 'Pennies' for such a good cause.

There are two types of Pennies for Friendship:
1. PFF - Funds the administration of ACWW.
2. WIPFF - Pennies for Friendship, funds projects and project administration
This is the preferred WI route. WIs pay their collected funds into the Federation once or twice a year. Donations can be made via the monthly statement.
We will then pay this money over to ACWW once a year to reduce bank charges for ACWW. The money is ring fenced by ACWW in order for it to be applied to projects within the category the WIs have asked for.
If any cheques are sent directly to ACWW they must be made payable to ACWW and on the back must be written they are for WIPFF (NOT just PFF).
The categories, which are now under the umbrella of the WE Fund (Women Empowered Fund) are:
Education
Nutrition, Good Health, Well Being
Sustainable Agriculture Training and Development
Income Generation and Livelihood
Sustainable Water, Sanitation and Energy
Maternal and Reproductive Health
The West Kent Board of Trustees decided that money raised this year will go towards the Income Generation and Livelihood 'pot'. We are then sent details of projects funded from this pot. So far there has been just one, Project 1048 Beekeeping for Sustainable Income, Kenya.
Tricia Ashdown is the Federation's ACWW Rep and is always happy to visit WIs and talk about ACWW or provide updates on current projects. If your WI would be interested please contact Tricia on triciaashdown@yahoo.com
Gillian Neville
---
June 2019
First of all I would like to say 'welcome' and 'thank you' to all of you who have volunteered to become your WI's new Treasurer. I hope you will find your new role to be a rewarding one and that you will soon feel quite at home with your new responsibilities.
At the risk of repeating myself there is support available to you. The Federation will be running two one day sessions in July, on the 10th and 16th. The application form is in this month's West Kent News (page 4). Please do come along if you can.
If you can't make either of these dates there is a treasurer's training module on My WI and of course if you have any queries please do get in touch either by phoning Ethel Hunt Lodge or emailing me at treasurer@wkfwi.org.uk
The April end of month posting contained two documents which I hoped might be useful. The first one provided an explanation about 'Acting as an Agent' and how to account for funds that fall within this definition. The second document set out what should be included in each heading in the accounts book/spreadsheet. I hope they are useful.
Gillian Neville
---
May 2019
If you weren't at the ACM in Tunbridge Wells this year I thought you might be interested in the main parts of my presentation on the Federation accounts.
The Federation in 2017-18 had a deficit of £17K. The main reason for the deficit was the drop in income on charitable activities. As a board we knew that would happen since in 2018 the focus was on running the special centenary evets at Rose Bruford, Aylesford and Hawkhurst. Therefore less of the normal workshops and days were organised.
We also used some of our reserves to subsidise the ticket cost, in line with Charity Commission guidance that charities should be using their reserves for the benefit of its members. A planned deficit is not a bad thing and won't cause any problems for the Federation.
With that in mind as a Board of Trustees we will be looking at both our reserves policies to ensure that the £155,000 budgeted to keep the Federation running for nine months is at the right level and will also consider how to use any surplus above that.
This year the Federation will be paying for six months for each WI to cover the cost of a web based version of the West Kent News. We are also holding the price of the hard copy at 25p per magazine.
Ticket prices - I know there have been some recent comments about the pricing of some of the workshops, so an explanation about pricing might be in order. Our aim with Federation events is not to make a massive loss or profit on them. Each event is budgeted at a break-even point or just over and takes into account the main costs of halls, speakers and tutors.
The Federation tries to book expert tutors and speakers for events to ensure that members hopefully have an interesting and educational experience from any of the workshops/annual days etc. However, sometimes tutors do come at a price and that can be an issue for the Federation. There will, in some instances, be costs that make an event so expensive that the take up is poor. This will not always be obvious until an event is advertised. If it doesn't reach it's break even point it will have to be cancelled as happened with the Sevenoaks Country Fair last year.
Now some of you may be wondering what this has to do with the finances of your WI. Well apart from the scale of the money involved some of what I have written here also applies to a WI.
As a committee you should know how much your WI will need to meet your commitments for a period of time should anything happen to your income. The period of time can be what you decide on but it's usually in the realm of 6-9 months.
If you have a substantial surplus you can consider what you can spend it on for the benefit of your members. As I said at Tunbridge Wells as a Treasurer I love having a large surplus in the bank but we should not just let it sit there. There is guidance on My WI as to what activities a surplus can be used for.
A planned deficit is not necessarily a bad thing.
Do prepare a budget for any fundraising activities/events you might put on for members.
May I finish by saying I hope you have a good annual meeting. To those of you stepping down I thank you for all the time and effort you have contributed to the running of your WI. Of course, this also applies if you are continuing in your role as well.
Gillian Neville
---