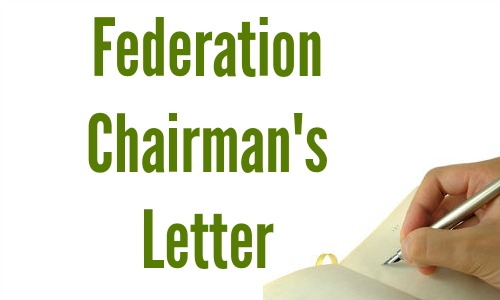 April 2020
Hello Ladies
I have lots to tell you about this month. As I am writing this in February, I shall say I hope you will have enjoyed the ACM in March. Lynne Stubbings is spending the night before the meeting with me and I am taking her to my WO, Bearsted Green's March meeting. I do hope she enjoys it!
Now STOP PRESS, A new WI called Christ Church WI based in Royal Tunbridge Wells was formed in February and as I write another has been formed in West Wickham. Congratulations to all and thank you to all the WI Advisers.
Did you read the WI Life February edition? If so, did you see on page 21 the piece about the New Vision? I do hope you are talking about it at your WIs. This ambitious vision will guide and focus the Organisation's work over the next five years. building on the successes it has achieved over the past 104 years. Part of this work is the Vision Statements. The NFWI wants everybody to be involved to test and develop them further. Please look at the statements and let NFWI know what YOU think.
Two of your Trustees, Amanda Breach (Petts Wood WI) and Annette Smith (Lyghe WI) recently met with other Climate Ambassadors from West Kent. Please read the article in this month's West Kent News.
Now, the better weather is here I hope to meet as many WIs as I can each month, so please send in your invitiations if you would like me to come to your WI.
Best wishes
Jane Backshall
---
March 2020
Dear Ladies
By the time you read this we will hopefully be having better weather and enjoying getting out and about.
It will be good to meet you at Royal Tunbridge Wells, I hope you all enjoy the Annual Council Meeting.
We are now just starting a new year in the West Kent Calendar and I am looking forward to working with some new faces. But there is always room for more volunteers so why not pick up the phone and ring EHL and find out when your favourite committee is next meeting and give it a go. You would be surprised what fun it can be to help put on an event and make new friends in the process. We pay your expenses so you are not out of pocket and of course there is always tea, coffee and biscuits on the go.
Please keep inviting me to your WI meeting, you would be amazed at how differently each WI operates. I do enjoy visiting you and hearing what you do during the month.
Yours in friendship
Jane Backshall
---
February 2020
Dear Ladies,
Well here we are, nearly a year has gone by since I was elected. What a year I have had. I have met so many of you at different events. I have been south east and west of the county and I hope to go north more in the spring. Thank you for making me so welcome. I could not do all this without the help of the Trustees, Sub-Committees and office staff so a big thank you to them. But most of all thank you to my understanding husband.
Today I am writing this on the way to East Kent's Centenary Carols in Canterbury Cathedral. There are also quite a few East Kent ladies on the train.
Now a little moan. Several WI Secretaries have mentioned to me about requesting tickets for events. Sometimes, members by mistake order two tickets, one they do themselves and the other through their WI. Maybe each WI should have a designated person for ticket ordering. No shows can work out very costly to the WI putting on an event.
Maybe I shall see some of you tossing the Pancakes on Shrove Tuesday, let's hope for a fine day. Another fine day would be useful in March for the ACM at Royal Tunbridge Wells.
Yours in friendship
Jane Backshall
---
January 2020
Dear Ladies,
A very Happy New Year to you, your family and friends. I wonder what 2020 will bring us? Good health and happiness amongst friends I hope.
I am writing this in deep snow not in Britain but in Norway with my husband and two of my own Institute members. This is what WI is all about, friendship. Perhaps if you are sitting at home you could pick up the phone and have a chat with a member of your WI who might be lonely, just like the adverts say on the TV.
What a year I have had in 2019, meeting so many of you at your own WI or a Group or Federation meetings. I look forward to seeing you and other members during this year.
Speaking of which, do not forget to put your name on the lists at your WI for your tickets for the ACM in March at Tunbridge Wells of for the NFWI AM at the Royal Albert Hall in June.
Or why not come to the Cockney Night next month, details of which have appeared in recent editions of West Kent News. I hope to see you somewhere in West Kent in 2020.
Now for the advert!
We are looking for ladies to join our various sub committees. I am sure you all have a little bit of spare time. Remember this is your chance to put forward your social, sporting and creative ideas.
Yours in friendship
Jane Backshall
---
December 2019
Hello Ladies,
Suddenly summer seems a long way away now the long, dark evenings are here. When I go out to visit WIs in the evenings sometimes I have to scrape the windscreen of my car before and after. I have just returned from a holiday in Norway with my husband and two WI friends, Rosie & Pam. We were very lucky to see the Northern Lights and snow, although it was not very warm or light during the day.
I shall have a wonderful lead up to Christmas this year with all the invitations you have been sending me. Thanks you all very much.
It was good to see many of you at the recent events and workshops, I do hope you enjoyed them. I would like to thank those who came to the evenings about CIO. A very dry subject but something that as a Federation we must do.
I hope too some of you will be able to come to the ACM in Tunbridge Wells in March when we have a very full programme for you. Stop Press : Melissa Green, the General Secretary at NFWI is coming as she lives near Eastbourne and wishes to see how we run an ACM.
We are looking for more ladies to join our various Committees. If you are interested in helping to run the Federation please contact the office for dates the sub-committee you are interested in meets.
May I take this opportunity to wish you and your families a very Merry Christmas and a Happy New Year. See you in 2020.
Yours in friendship
Jane Backshall
---
November 2019
Dear Ladies,
Although it is only November, the shops are already full of Christmas cheer but this is also the month when, through the purchase of poppies, we remember those who lost their lives helping to keep us free.
On a happier note I am amazed at the number of invitations I have received from you, thank you so much. Please keep them coming and I will do my best to visit you.
It was good to meet so many of you at the meetings held about CIO last month, I hope everybody now has some understanding of what the Federation is going to do if you approve. My thanks go to Caroline Davis and Gillian Neville for all their hard work in this.
Next year on 5th March at the Assembly Hall in Royal Tunbridge Wells we have our 101st ACM. I am very pleased to tell you we have the journalist Robert Hardman who some of you will know from his television work, book writing and editorials in newspapers. Just before lunch we are going to be entertained by Opera-lele. After lunch, three ladies from the Army, Navy & Airforce will tell us a little bit about their work not only for the forces but also for charity.
So I hope you will come to the meeting. Please ask your Secretary to put your name down on her list supplied by the Federation.
If you would like to act as a steward at the ACM please fill in the form labelled 'Stewarding' which your Secretary has received.
Yours in friendship
Jane Backshall
---
October 2019
Dear Ladies,
Here we are in October. I have been out and about a great deal since I last wrote to you. Not only have I been visiting WIs like Wells Belles (Party in the Park), Ladies of the Manor (listening to Carol & Diane's talk about going to the Triennial Conference of ACWW in Melbourne) I popped into Tents in Kent on a very wet night and met ladies from Manchester, Bristol, Bognor Regis, Maidstone and many other places all having a wonderful time at Adamswell Scout Camp.
I am sure many of you were disappointed not to get a ticket for the Home Economics Autumn Lunch, we were so oversubscribed. We hope to have another lunch next year. The same has happened with the latest Auditions Day if only we could find a large hall with room for 500 ladies.
In between the showers Annette and I spent a day painting the emergency stairs at Ethel Hunt Lodge. I think more paint went on me than on the stairs!!
I look forward to meeting more WIs this coming month now you are all back from your summer breaks.
Yours in friendship,
Jane Backshall
---
September 2019
Dear Ladies,
How time does fly, here we are with summer almost over, hopefully we will enjoy some lovely autumn weather.
I do hope you have enjoyed the many Art & Craft days during the summer and have noticed that we have improved the parking at EHL, no potholes or overhanging branches.
There are several Annual Days coming up and I just wanted to remind you about the way we deal with days being oversubscribed. We use a pro rata system so, as long as you send in your request by the closing date, everyone gets a chance to go. If you are not successful we usually try and put on a second day.
I have been hearing rumblings amongst the Groups. Please stick with the name Group and NOT District so we are the same as the rest of the country. Next year we will hold a meeting for Group Co-ordinators to find a way forward.
On the subject of communication please WI Secretaries check your Mail Boxes. If there is a problem contact Clair at the office for assistance as we are here to help. I am sorry to say that sometimes the language used on the phone to us is not acceptable, so ladies please keep calm, we are all here for each other.
One other item that has come to my notice, IF you wish to stand to become a Trustee you must have the backing of your Committee and your WI before your name can go forward.
The office is manned on Tuesday by Miz, Linda, Clair & Alan, on Wednesday by Miz, Clair and Alan and on Thursday & Friday by Miz & Linda. Alan is out bookkeeper, Clair our IT lady & Miz and Linda look after the office side.
Yours in friendship
Jane Backshall
---
August 2019
Hello Ladies,
I am writing this on a very cold day, not a bit like summer! I hope the weather is not spoiling your WI activities.
What a great three days we had up at Detling for the Kent Show. I did enjoy meeting some of you at the Huxley Cup Competition tent. I have been out and about again this month seeing you at Group meetings. On a trip to the Isle of Wight with another WI member from the Heart of England WI we attended a meeting of the Ningwood and Shalfleet WI where they made us most welcome.
Since I last wrote to you, we have had an Inter-Federation Meeting of Chairmen led by Lynne Stubbings the NFWI Chairman. It was held at Bearsted & Thurnham's WI Hall which is 98 years old and we were fed and watered by Bearsted Green WI. Thanks to both WIs.
I do hope that you are looking online at the West Kent News or reading it from the paper copy. I hope you think we have improved it over the last few issues. Please keep sending in your news to us as we like to know what you have been doing. A big thank you to the West Kent News Team.
By the time you read this the car park at Ethel Hunt Lodge will have been resurfaced. It was long overdue and will save members getting their feet wet in the puddles.
So ladies, enjoy the rest of your summer with your families and friends and I hope to see you all soon.
Jane Backshall
---
July 2019
Hello Ladies,
Here we are again; another month has whizzed by. I hope you have all been out and about in the mostly beautiful weather.
I was delighted to meet so many of you at the Home Economics days at Ditton. I have been to quite a few WIs in the last month and one Group meeting at Crayford, a celebration of May Day. I went to Bournemouth for the NFWI Annual Meeting along with 45 delegates and 19 observers, 2 reps, Anne Harris and 2 stewards, all of us representing West Kent Federation. The discussions were long and hard but very interesting so look out for your delegate's report.
I do hope that your Annual Meetings have gone well and I look forward to hearing about your plans for the year.
I hope you all have a great summer enjoying gatherings with WI friends and your families.
Yours in friendship
Jane Backshall
---
June 2019
Hello Ladies,
I do hope you are enjoying the lighter evenings when you are out at your meetings. My first couple of months as your Chairman has been a busy time visiting some of you at your celebratory meetings. Congratulations to those WIs who reached a century last month.
Thank you for all your comments regarding the ACM in Tunbridge Wells. I can assure you that we do listen to what you tell us and we will try to take appropriate action where necessary. By the time you read this I shall be with many of you from West Kent who have attended the AGM at Bournemouth. It will be interesting to hear what the rest of the country has to say about the resolutions; maybe one of West Kent's WIs will put together a resolution for another year.
Thank you for all the cards and letters we received telling us how much you enjoyed the ACM and the recent visit to Denman. Our thanks go to Sheila Miles for all the hard work she put into everyone having a good time at Denman. Sheila, with two new helpers, Barbara Bickell and Amanda Breach from Petts Wood, are busy finalising our visit next year.
Yours in friendship
Jane Backshall
---
May 2019
Hello Ladies,
Within West Kent Federation of WIs the appointment of the Chairman of Trustees takes place immediately after the Annual Council Meeting at Tunbridge Wells. I feel very honoured and delighted to have been elected as Chairman for the next year. Annette Smith will be a hard act to follow. I live near Maidstone, married to Derek with two daughters and three grandchildren. I have been a member of Bearsted Green WI since 2000.
I hope that, with the rest of the Trustees and the very helpful office staff, we will continue to serve West Kent well. As I said at Tunbridge Wells, we have a lot of interesting events for you in the coming year so please check every month in the West Kent News and on Facebook.
I look forward to meeting many of you at events around our Federation or at your regular monthly meeting.
Best wishes
Jane Backshall
---